We are 'True Storytelling Institute'. We conduct seminars in Ensemble Leadership 'organizing, developing and changing.
We have 7 core principles we use in all our training modules. Each is like a diamond and we focus on a unique facet of each principle for each module.
What do we do? In four sessions we work with you to move your system of leadership from Solo Leadership (command & control, Single Loop) to Double Loop of retrospective-prospective Open System, and if you are willing, continue to develop the Triple Loop of Ensemble Leadership for socio-ecological sustainability. Ensemble Storytelling is a key process in doing Ensemble Leadershhip. Ensemble storytelling is the interplay of living story webs, narrative-counternarrative dialectics, and constituting them both out of antenarrative processes (of retrospective-prospective Double Loop). 
What is Solo Leadership?
A lot of leaders going solo, not able to work and collaborate together.
What is Ensemble Leadership?
Grace Ann Rosile is a pioneer in ensemble leadership. Her article with Boje and Claw, in the Leadership Journal, develops a concept, called 'Heterarchical'. I means having multiple networks, only one of which is hierarchical.
Rosile, G. A., M Boje, D., & Claw, C. M. (2018). Ensemble leadership theory: Collectivist, relational, and heterarchical roots from indigenous contexts. Leadership, 14(3), 307-328. Click Here to Read entire article.
What is Heterarchical Networking?
Heterarchy encompasses multiple interacting hierarchies. The prehispanic evidence in the indigenous southwest, Leadership Ensembles wre hierarchical as well as more egalitarian. This multiplicity of nested networkings of different kinds, has been termed heterarchicalThere are what we call nested one in the other, and this is a self-similar across scales. In other words, it is a nest fractal. The result is Heterarchy Leadership Ensembles can thus adapt to both stable and dynamic environments.
Heterarchical is an Indigenous Way of Knowing (IWOK) is also a way of Being grounded in the socio-ecological. It was a way of ensemble leadership that was once common in the prehispanic southwest portions of North America, then all but forgotten, as hierarchy leadership dominated since the industrial revolution. In Ensemble Leadership, hierarchies become nonlinear networks that foster greater egalitarianism rather than hierarchical command and control (i.e. Single Loop).
"Collectivism, dynamism, decenteredness, and heterarchy all are weak or missing in traditional leadership literature" (Rosile, Boje, & Claw, 2018: 308).
Ensemble Leadership networking flourished in prehispanic southwest indigenous cultures, and could flourish again where collaboration can be nourished.
Ensemble leadership is defined as collectivist, dynamic, decentered, and heterarchic.
Collectivist. Contemporary indigenous scholars offer a wealth of recent literature on indigenous ways-of-knowing and other aspects of tribal values and traditions as these practices
come into contact with the Eurowestern world.
Dynamic. While some leadership perspectives view relationships in terms of ''entities'' or
attributes of individuals, we follow relational networking, co-created in the moment by the interaction of the parties involved.
Decentered. As a result of the collectivist perspective combined with dynamism, the milieu of Ensemble Leadership is not conducive to focused, hierarchical, rigid structures of control. It is more like what Will McWhinney called Chinese baseball: just like American baseball with batter, pitcher, first, second, and third bases, and home plate. However, any time the ball is in the air, the other team can move the bases. With such conditions, any point in the system may become the new focus, as the system itself is fluid and changing. In other words Ensemble Leadership Networking is a 'verb', an ongoing collectivist, dynamic, and decentered way of organizing, developing, and changing (we call it ODC 2.0).
See these two posts in our blog for more on ODC 2.0
Ensemble Leadership Networking is multi-layered, and contrasted with single layer (aka Solo Leadership) approaches, such as (1) shared leadership: (2) distributive leadership, (3) dispersed leadership, and (4) relational leadership. Please CLICK HERE to see the table of comparison on the article.
After Developing a Theory of Ensemble Leadership, the Next Step was to Do Proof of Concept in a Field Study
We found something amazing: Ensemble Storytelling processes are integral to Ensemble Leadership processes.
Rosile, G. A., Boje, D. M., Herder, R. A., & Sanchez, M. (2021). The Coalition of Immokalee Workers uses ensemble storytelling processes to overcome enslavement in corporate supply chains. Business & Society, 60(2), 376-414. Click Here to read entire article.
Abstract
The Coalition of Immokalee Workers (CIW) has successfully combated
modern-day slavery by transforming the ways that over a dozen major
brands, including Taco Bell, Subway, and Wal-Mart, manage their supply
chains. The CIW's efforts over more than 20 years have effectively
stopped enslavement practices, including abuses such as wage theft and
peonage indebtedness. We conducted a field ethnography, interviews,
and archival analyses to understand this success. We find that the
CIW employs a decentered, egalitarian, and ensemble approach to
their multiplicities of alliances by collectively "animating" themselves
and their partners through ensemble leadership. This combination of
alliances, along with worker-driven monitoring, brings life to the CIW
motto "We are all leaders." Translating this motto into daily practice
is how the CIW virtually eradicates enslavement practices in corporate
supply chains.
Our first contribution to theory is to offer a living case example of ensemble leadership and ensemble storytelling (ES). The CIW history demonstrates that traditional bureaucratic hierarchical systems may be less effective than flatter, more diverse "heterarchical" systems. We term those dynamic heterarchical systems "Ensemble" (Rosile et al., 2021).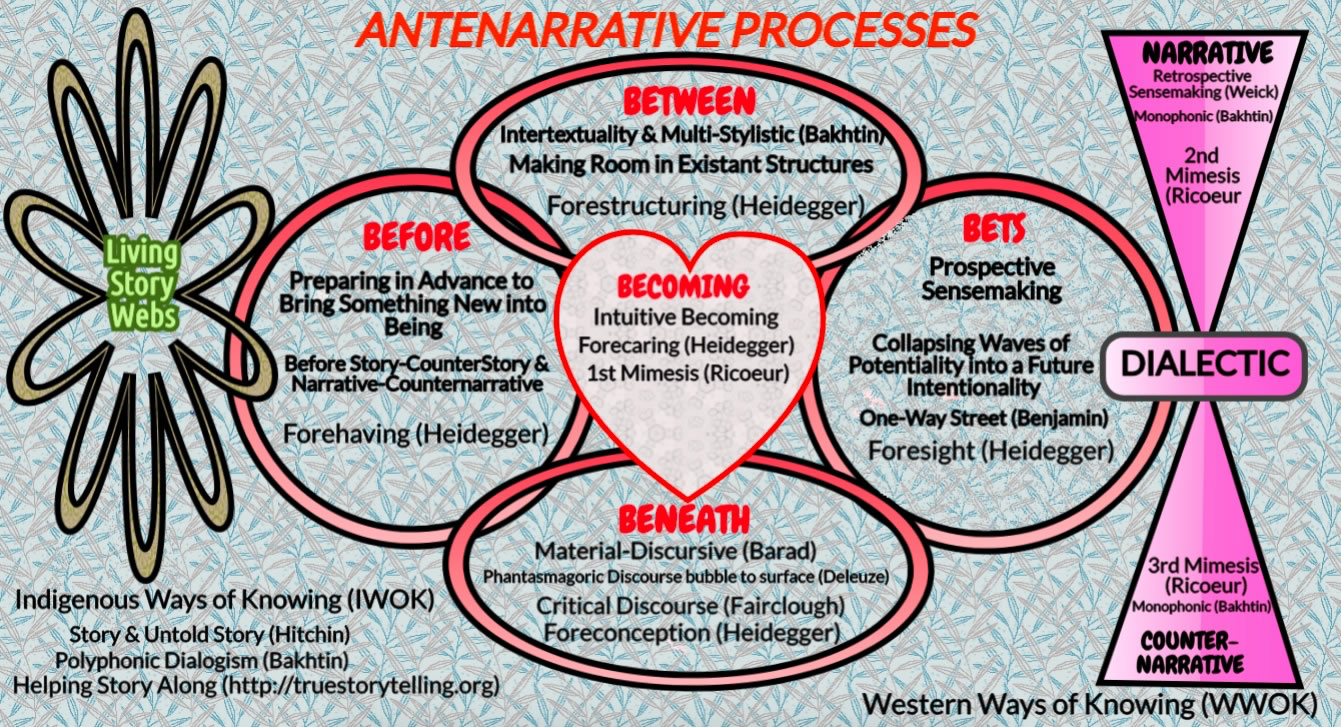 The above image shows how processes of WWOK and IWAOK are contending in modern organizaitons. Ensemble Leadership can however be combined with Ensemble Storytelling. This begins by combining True Storytelling Principles with the Antenarrative Processes.
The 2021 study of CIW showed that Worker-Driven Corporate Social Responsibility can develop Diversity, Equity, and Inclusion that changes the usual approaches to Single Loop Corporate Social Responsibility.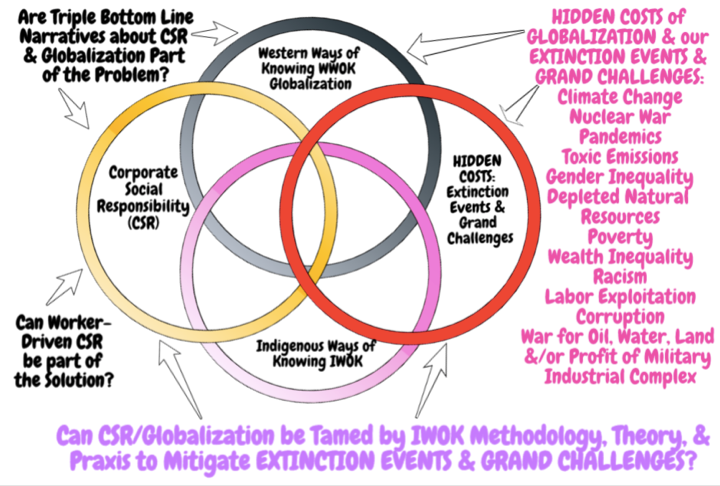 These three True Storytelling Blog posts develop this approach we call DEI 2.0
Our vision for the future is to used Ensemble Storytelling in Ensemble Leadership Networking that will make sustainability possible.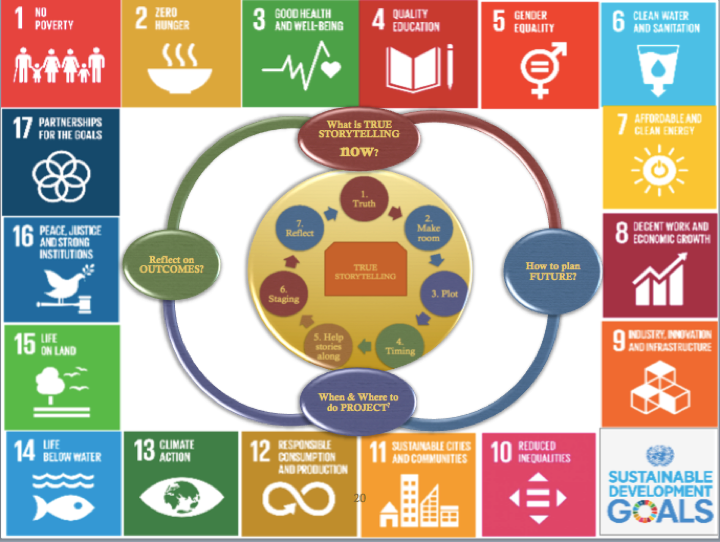 Where is your leadership in the
STORYTELLING ARC?
In the SOLO LEADER stage, you are in that heroic leader myth, doing your control and micro-managing, part of a hierarchy of domination, engaged in instrumental ethics, doing the best you can do.
The Four Sessions of the Leadership Seminar
Session I The Untruth Leaders Have Been In? For too long leadership has been stuck in command-and-control (top down), micro-managing, and its a waste of human potential, and leading with utilitarian ethics. Principle 1 (True) means "Being-True" ethically-by-answerability, by always Being-Uncovering what is hidden and denied by untruth leading, and by taking situations out of their hiddenness. Principle 2 (Make Room) means respecting and listening to the stories already there before embarking on a strategic initiative.
Session II Where We Are Now? Principle 3 (Plot) means creating a clear direction, but with a twist called Punctum (a layer of passion over it). Principle 4 (Timing) means all kinds of times (clock time, seasons, chronology, and those special opportune moments to act now).
We train you in TRUE STORYTELLING Principles
The TRUE STORYTELLING principles are catalysts for transformation and change in your leadership behavior into ENSEMBLE LEADERSHIP. That means learning to do together-listening, together-telling and using methods of self-correction, in order to move out of the hiding and covering-up.
The CLIMAX Sessions
Session III: The Main Climax is How We Get There? Principle 5 (Helping Story Along) means engaging: (a) critical attunements, such assertively pointing out disclosures of truth, (b) living story webs ore relationship, (c) methods of conversational storytelling with self-correcting moves, and (d) heart-of-Care becoming encounterable in leadership practices. Principle 6 (Staging) means using those attunements that focus a strategy such as material artifacts that guide an audience along a strategic path of attunement by care and understanding, without distracting them into attunements of ambiguity, curiosity (off track), and idle talk.
Session IV: The Denouement is Where We Are Going To Be – Principle 7 (Reflection & Value). In embodied restorying one has learned to move out of problem-saturated SOLO leadership into potentiality of ENSEMBLE leadership. Participants have practiced new skills and been mentored in new True Storytelling capabilities.
Jens Larsen and Lena Bruun are in Copenhagen. David Boje and Grace Ann Rosile are in New Mexico, and Jim Sibel in Pennsylvania are the co-founders of True Storytelling Institute:
The Founders
Jens Larsen
2005 – Present
Does Mountain walks with executives to effect true storytelling transformation experiences with executives. lead-author of True Storytelling Book (Routledge Publishers) with Lena and David.
Grace Ann Rosile
2012 – Present
Author of ensemble leadership and ensemble storytelling approaches. Uses embodied restorying using equine therapy. Here groundbreaking book, Tribal Wisdom for Business Ethics. Co-author with David of the Conversational Storytelling book.
Jim Sibel
2020 – Present. Did his dissertation in self-correcting processes of conversational storytelling.
Chief Operating Officer of True Storytelling Institute
Lena Bruun
2008 – Present
Chief designer of the Rock Museum outside Copenhagen. Co-author of True Storytelling Book.
David M. Boje
1978 – Present
Storytelling researcher, storytelling teacher, storytelling author of 27 books & 150 articles, and storytelling interventionist. Uses embodied restorying using material objects with vibrant energy in sandtray work. Co-author of True Storytelling book
Let's do TRUE STORYTELLING
together-telling for Ensemble Leadership